What's New with GARTEL'S Site and Work?
03/13/2005: "The Digitalist Goes Wild!"


The evolution of an artist in the past was dictated by the periods of art he/she created. For instance there was Picasso's "Blue Period" and Man Rays "Ray-o-grams." Periods are also measured by the times an artist spends in a particular place.

With the advent of jet airplanes, Federal Express and email, we live our lives around the world in an instant. One can write a letter here, get a video clip there. It has become ONE
WORLD under the "Golden Arches." (And I'm not talking Christo's GATES either.) Due to technology and fast food restaurants, our communications bring us closer together.

Every Starbucks on earth these days has wireless Internet so you can have your .00 burnt coffee and surf the Internet at the very same time. With all that wireless connection around me I preferred to actually LIVE LIFE instead.


Let me tell you what I've been up to. P A R T Y I N G like a Rock Star is more like it.

Here in Miami we had the ART BASEL MIAMI BEACH come to town. Every major gallery from all over the world comes in for this one. While the art was "Emperors' New Clothing," the parties on the rooftops of buildings sure wasn't! REAL ESTATE is the prime mover of these events and boy did they get gorgeous people out for them.



I threw a party myself at JOIA LOUNGE during ART BASEL and wouldn't you know it, but Los Angeles basketball star MAGIC JOHNSON showed up!! (Yo- Magic!!) One of the greatest of all times~!!



I guess I should tell you that before my JOIA PARTY, I was out in Los Angeles for Governor Jeb Bush's Office of Film and Entertainment where I put together a multimedia program for their Florida Filmmakers Reunion at the Globe Theatre at Universal Studios in Hollywood.



If we back up just a little more, I'll tell you that I was in Scottsdale, Arizona to be the JUDGE for the Scottsdale International Film Festival's "Digital Filmmaking Competition." I also gave a lecture at the Scottsdale Museum of Contemporary Art.



I hung out in Tempe for a little bit; which if you blindfolded me, I could have been anywhere. Cheesecake Factory, Houston's, Fridays, Shell Oil, Einstein's Bagels.
Man it could have been anywhere in the US of Homeland Security A.

I drove to Tucson for a less that 24 hour visit to see my friend Lorraine Dar Conte who I hadn't seen in over 25 years. (She looked great by the way.) My buddy Gussie called me while I was on the road and he said to me, "You travel so much. How do you ever know where you are going?" I told him, "It's simple - its called a map!" -))



Tucson was fabo. I when to see this church in the middle of nowhere that looked like a dumb down version of Notre Dame. Pretty though, as I was told Ansel Adams went out there often to take pictures. I enjoyed my visit to Tucson. I finally saw some real authentic tumble weeds, as well as a REAL old western town. (Cause the yuppies are taking it over, but who can blame them???)

Lorraine and I then had a terrific MEXICAN dinner (and yes more "Authenticism.") Some how living in America I'm always weary that I am at DISNEY LAND. (Reminds me of the time I was at Epcot Center and this guy told his family, "Honey - lets go to ENGLAND and have Fish and Chips!" He really believed he was in England. I really wanted to tell this guy it would have been cheaper to fly over to Heathrow than to get the family tickets to Disney. –Who am I to spoil a party??))))

Any case, after dinner we watched the DAY of the DEAD parade. Great costumes and a real tradition in Tucson. The only difference was, that the parade took place AFTER the election and Ms. Liberty was a skeleton in a casket. The American Flag was dressed in all black velvet. I think I saw a giant head of Saddam Hussein as well.



Yes indeedy... DEMOCRACY saw its death during that parade! Finishing up the parade we decided to have a drink at the HOTEL CONGRESS. –A real find! I'm not sure how long this place has been around but it sure felt like a lot of "stuff" went down in this place. (If only the walls could talk. as well as the waitress. She was really sexy and quiet.)

The next morning we went to this replica western town (yeah!!) and then I drove back to Phoenix and headed to Los Angeles. That's where the above story picks up about LA. (This writing is kind of like: "When Harry met Sally.").

Anyway, LA was great and I got to go to the GETTY Museum for the first time. I always wanted to go. Took a walk on Melrose and bought a pair of really nice shoes. (This is right about the time when you say to yourself, uh oh.this really "IS" starting to sound like a Blog" - time to live my own life. LOLOLOL) So then we go to a club after the big event at the Globe Theater and I have a verbal argument with some .00 an hour wannabe rent a bouncer who wouldn't let me into the SKYBAR. Oh well. Went across the street and dropped for sushi for 6.



Getting back to ART BASEL, there were so many parties and so little time. MOCA spearheaded by Bonnie Clearwater was an exhibition about Film as Art. I don't know how many people went to see the art but there sure were a zillion people lined up for the sponsored liquor by Bacardi. (Great party.) Bonnie had Rolls Royce out on her front lawn. Made for an interesting entrance.



While walking the DESIGN DISTRICT I ran into KENNY SCHARF. (one of my favs!)
Right up there with Keith Haring, whom I went to art school with in the 70s.



Here are pix from this new club called the PAWN SHOP during ART BASEL.
I think you are getting the idea that my life is all about having FUN!!

Back to LA then afterwards for a big outrageous party bash. I can't show you the pictures from this party, as it was wild, but I can show you the images from the First Anniversary Erotic Museum on Hollywood Blvd. Crazy people and lots of fun.



GREG BRADY even showed up. He asked me, "Who is that behind those Foster Grants?" I told him, "You don't know famous artists when you see them???" - duh. I introduced him to the REAL DOLL they had on display and Greg got tongue-tied. ))



Back to Florida and time to get ready for the Miami International Film Festival. Boy was that exciting. The opening night film, "Modigliani" starring Andy Garcia, couldn't have been more apropos. Great directing by Mick Davis and if you go to my website you can get a little snip of "KEEDIE" who sang during the gala after party and for the film. Was really a super night with lots of great food and people. Kudos to the film festival people particularly the director, Nicole Guillemet.

Of course a film festival should be about great films and this one was. Super films by dedicated filmmakers.

I happen to interview about forty of them each from a different part of the world and enthusiastic about their craft. Reminded me why I became an artist in the first place.

I saw another film called, "Twin Sisters" and fell in love with the star Thelka Reuten. (Nice to fall in love with the character on the screen and then - meet them in person!!) Actually I met her in person first doing an interview - THEN I saw her film. Her talent mesmerized me. I partied so hard at the VERSACE Mansion that I missed closing night. (Hey you can't do it all.)

I recovered finally from all this and then headed up to the PMA (Photo Marketing Trade Show) in Orlando. Nice to see people I hadn't seen in 10-15-20 years!! Melancholy to see them, after all these years. Dedicated souls who give their lives to the future of vision: Humbling actually.

Most of the people love the models that stand in front of the camera booths but after seeing what I have seen, that's more like Swiss cheese. I go right through them to the cameras.

The latest 3CCD video cameras half the size of my palm with micro drives. (yeah baby!!!) Then there was the Foveon camera by Sigma. (Who knows how many mega pixels this camera is. all I know is that its GREAT!) I also tested Fuji's digital camera that was wowing. Got a sneak preview of Kodak's first WI-FI camera. Yeah. "Snap and Send!" (Oops . Was I not supposed to say that?) The camera is not out yet. My friends at Konica/Minolta have a killer laser printer that produces gorgeous output. Gone are the days of lousy repros. Some of these images look as good as regular prints. Love my 8-mega-pixel A2 camera. Super resolution on the movie mode!
(That's where it's all going Gingersnaps!) Last but not least, I couldn't help but take a picture with Football Hall of Fame Great Lynn Swan at the Olympus booth. They have a
nice media player called "M:Robe." (Guess someone thought this up after they got out of the shower.)) My buddy John Reuter took a super duper 20"x24" Polaroid of me. He signed it too. - Thanks Johnny boy! (He won't know that I will go sell it on Ebay!) Okay finally, finally, who can forget the NOKIA body painted girl. Who ever thought this one up was a genius. - Girl as a leopard naked at a photo show! (I'll take two!)

What could possibly be left after this? - Why the Winter Music Conference of course!!
Dj's from around the world descending upon Miami and partying their asses off. They are attempting to charge the PRESS to get in. Outrageous. (Don't worry, I'll find a way to get in).

Party On people! - LIVING IS ART!

-Laurence GARTEL
gartel@gate.net
www.gartelmuseum.com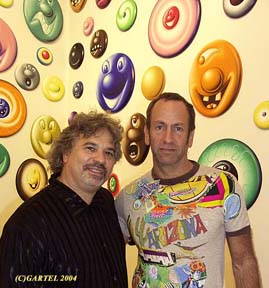 What's New With My Travels?
Preparing for travelling museum show, among a thousand other things.