Come Share GARTEL'S MIAMI Stories, Told Through Pictures

NEW 5/05 GLITTERATI PICS of PBIFF
2011 Update:
http://gartelmuseum.weebly.com
gartelpr@gmail.com
More at http://gartelmiamipbiff.50megs.com/
Right now, MIAMI is the center of the cultural universe. It is THE hot spot for the music, movie and fashion industries. So much goes on here, we can hardly keep up.

Laurence Gartel, often called the "godfather" of digital fine art is a fixture in the swinging Miami Scene. Whether its throwing the hottest parties on Ocean Drive in South Beach, interviewing celebrities for his TV talk show CULTURE TALK, shooting his own films, or showing his work all over Florida and points beyond in museums and galleries GARTEL has his pulse on the city's funky heartbeat.

GARTEL is currently Artist-in-Residence at Miami Dade College, an entertainment and media school. Check the other pages here to find out what else he's been up to lately.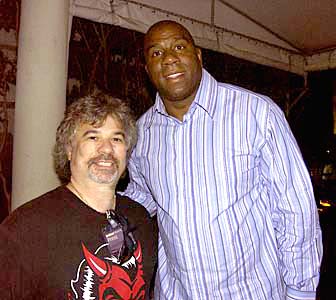 *
THEN: MIFF
http://www.miamifilmfestival.com/
GARTEL ~ MIAMI'S HOTLINE TO CULTURE
Gartel chronicles and participates in a variety of Miami cultural events from haute to low brow. His interviews run the gamut from fine art to music to the literati. Miami holds some of the finest events in Film, Music and Books:

MIAMI INTERNATIONAL FILM FESTIVAL (MIFF) Feb. 4-13, Be sure to check the ABOUT page here; the festival opened with a biopic of Modigliani, starring Andy Garcia and news conference for Liv Ullman. For more details and news photos of the event, click ABOUT and PHOTOS in the left column here.

MIAMI MUSIC FESTIVAL '05; March 26, 2005. Ultra Music Festival with Moby and Crystal Method; see Photo Page 5

Gartel was there with both video and still equipment to capture the moment. Celebrities, color, culture.

As the expression goes, "Life immitates Art."
What happens when Life IS Art or is better
than the art that got interpreted? I've had the
privilege of seeing some of the films in the film
festival and I have to say that talking to the
filmmakers and seeing them in the flesh, was/is
more artistic/creative/and inventive than the
execution of some of these films. Thats not to
put the films down, but it is to say that "LIFE" is the Art, and the shaping of one's life is a truly creative path and journey. Some go to the movies to be entertained, stimulated, and perhaps a moment of personal growth, should the film have a message to learn from.

In my days of now interviewing, seeing and documenting what "IS," I find that the day is filled with richness listening to people's stories and the personal presentation of themselves.

People are immersed in their own worlds, their own problems, and their own formulation. As they should be. It is afterall their life. Every photographer will tell you though, that being on the other side of the camera gives the opportunity to listen, see, and be a voyeur of a situation.

There is a lot to deduce from the mannerisms of "celebrities." How they walk, talk, move their head and most important: "What they SAY." What comes out of their mouths is indeed the gateway to their souls, and how they perceive the world. What we see on the BIG and SMALL screens is an alter ego to who they really are. That is the big curtain to which truth is revealed.

My suggestion to judging any celebrity is to understand, "they are just people, and its just a movie" that they are in. No more, and more often: less.

-GARTEL
April 18, 2005


The film line-up for the 10th annual festival Palm Beach International Film Festival featured over a 150 diverse films, including features, documentaries and shorts, the eight-day Fest introduces 11 world premieres, 6 U.S. premieres and 43 Florida premieres, including 30 international films.

Opening Night kicked off with the world premiere comedy When Do We Eat?, the story of the "world's fastest Seder" gone horribly awry. Directed by Salvador Litvak, Michael Lerner portrays an old school dad who's as tough on his sons as his father (Jack Klugman) is on him. On this night, however, one of the boys (Ben Feldman) slips dad a dose of Ecstasy in order to give him a new perspective. The film also stars Lesley Ann Warren, Shiri Appleby and Adam Lamberg. After party at the West Palm Beach hotspot, Resort.

Closing out the 10th Anniversary is the Third PBIFF Annual Competition Awards Ceremony & Closing Night Film Checking Out, directed by Jeff Hare. The film tells the story of an old Shakespearean actor who invites his three children to his suicide party. They quickly arrive and for the first time, work together to prove to their father why life is worth living. Starring Peter Falk, David Paymer, Judge Reinhold, Laura San Giacomo, Jeffrey Sams, Dan Byrd.

Celebrities scheduled to appear to promote their films include Judge Reinhold starring in Checking Out, Peter Boyle starring in Young Frankenstein, Patricia Heaton who produced The Bituminous Coal Queens of Pennsylvania, Al Sapienza (The Sopranos) starring in Back In The Day and The Dance, Leila Arcieri starring in A Perfect Fit and Clint Howard and Linda Blair starring in Hitter's Anonymous, filmed on location in Palm Beach County.
http://gartelmiamipbiff.50megs.com/


2005 Miami Book Fair International
- November 13-20, 2005... vendors set up in the streets surrounding Miami Dade College's Wolfson Campus. The Miami Book Fair International has always had a global flair. www.miamibookfair.com/2004/sf.htm

04/12/2005: "M3SUMMIT"
You would have to be living under a rock to not know that the week of March 23-26th is the Winter Music Conference in Miami, celebrating its 20th year. Every single DJ that is worth his spin has descended upon Miami for this event. Forget Art Basel, this event rivals that of the commercial Air and Sea Show in Ft. Lauderdale in terms of attendance. Every hotel was completely booked, and the last night culminating with the ULTRA Festival at Bayside, saw more cars in the road than rush hour traffic in New York City. (It was calculated that there were over 75,000 attending the concert). While that may make people nervous, I can tell you that it is also pleasing. People are coming to Miami for "music." They are coming for lifestyle. And in the end, they are coming to get a jolt of life. They most certainly got it during this week if they were able to stay awake for several non-stop days of endless grooving.


There were several "mini" events catering to "thousands" during WMC. One such event was the M3SUMMIT now in its second year. Located at both the Raleigh and Surfcomber hotels M3 brings together the lifestyle of those in music, art, fashion and contemporary "uber electronica." Packed with lots of flavor there were sessions on the music industry and the events were filled with talent pool side. John Legend, Cirque du Soleil, Louis Vega, Digable Planets and many more talented musicians performed. All the while there was the "Gadget Lab" sponsored by WIRED MAGAZINE showcasing the latest in cool new technology along with interesting art. (*Yours truly included.)
And what would a night be without a brand new monogrammed towel courtesy of Absolut Vodka and a few hundred thousand drinks served to the passport holders who paid for the privilege of partaking in M3. Check the pictures and interviews and lets already get ready for next year.

I love Miami! Party on!
-GARTEL
March 27, 2005


GOING PLACES IN MIAMI
You just never know who you will run into in Miami. Seen here: Gartel (a big basketball and Miami HEAT fan) and Magic Johnson.
Photography & PHOTOSHOP Tips
Who wouldn't want GARTEL as a mentor for their own photography AND print making practice? This digital wizard offers panel discussions and classes to the public periodically, and can be booked for your event.
Questions? Send Gartel e-mail
WORKSHOPS
If you're interested in learning more about photography and DFA, see http://gartelmuseum.com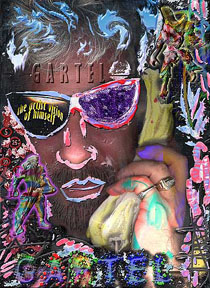 VISIT the GARTEL MUSEUM HOMEPAGE
The Gartel Museum tells the history of GARTEL's contribution to the history of art, and Digital Fine Art (DFA), in particular. Gartel was digital before the PC hit home markets, before Photoshop, before the picture phone! Gartel wasn't "State of the Art"; he virtually invented it!
Go to GARTEL MUSEUM.com